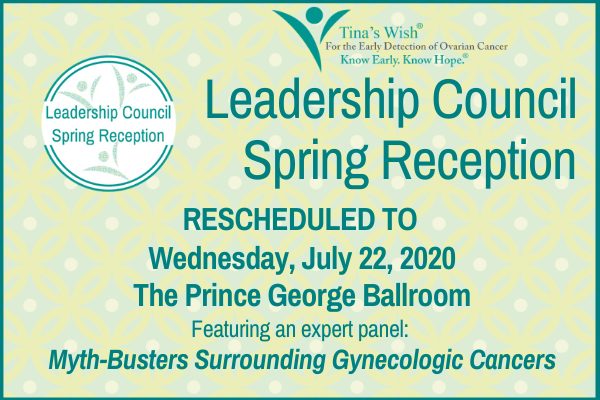 As a precaution and with the utmost concern about the health and safety of our community, we have decided to postpone the Leadership Council Spring Reception that was originally scheduled for Thursday, June 4th. The event will now be held on Wednesday, July 22nd.
Leadership Council Spring Reception
Wednesday, July 22, 2020, 6PM
The Prince George Ballroom
15 E 27th Street (Between Madison and Fifth Avenues)
With our hearts and minds focused on COVID-19, we are reminded of the importance of good health and the need for effective screening tools. Amidst this crisis, our mission and our quest for an early detection test for ovarian cancer remains as urgent as ever. We are hopeful that three (3) of our funded projects will enter clinical trials in the near future.
We hope you will join us for a memorable evening on Wednesday, July 22. Guests will enjoy cocktails and hors d'oeuvres followed by an expert panel discussion, Myth-Busters Surrounding Gynecologic Cancers.
Event proceeds will go towards our Rising Star Grant, to benefit a non-tenured, innovative researcher dedicated to early detection ovarian cancer research. CLICK HERE to learn about our funded research.
CLICK HERE for a recap of the 2019 Leadership Council Spring Reception.
CLICK HERE TO JUMP TO THE REGISTRATION FORM
---
TEAL SPONSORS
---
GOLD SPONSOR
---
SILVER SPONSORS
---
LEADERSHIP COUNCIL EVENT CO-CHAIRS
Lisa Beckerman, Esq., Akin Gump Strauss Hauer & Feld
Nicole Greenblatt, Esq., Kirkland & Ellis 
Donna Kramer-Cohen, Esq., Survivor
Sherri L. Toub, Esq., Kekst CNC
LEADERSHIP COUNCIL EVENT COMMITTEE
The Honorable Cecelia Morris, Chief Judge, U.S. Bankruptcy Court SDNY, Leadership Council Chair & Board Member
Elizabeth Austin, Esq., Pullman & Comley
Andrew Brozman, Esq.
Ms. Kimberly Cantor
The Honorable Shelley Chapman, Judge, U.S. Bankruptcy Court SDNY
Melanie Cyganowski, Esq., Otterbourg 
Marcia Goldstein, Esq.
Amy Kyle, Esq., Morgan, Lewis & Bockius, Tina's Wish Board Chair
Bonnie Ray, PhD, Chartbeat 
Ms. Linda Ray, The Northstar Group
Ms. Meaghan Repko, Joele Frank, Wilkinson Brimmer Katcher
Ms. Laureen Ryan, Alvarez & Marsal
Susan Seabury, Esq., Baker Tilly Virchow Krause 
The Honorable Mary Kay Vyskocil, Judge, U.S. District Court SDNY