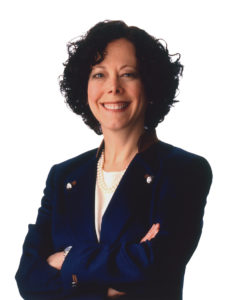 About Tina Brozman
At the age of 32, Tina became the youngest judge appointed to the U.S. Bankruptcy Court for the Southern District of New York, eventually becoming the chief judge of the court. During her time on the bench Tina had a significant and lasting impact on both domestic and international restructurings. In 2000, Tina retired from the bench to join Bingham McCutchen LLP as a partner and a co-leader of the firm's financial restructuring group. She was named one of the 50 Most Influential Women Lawyers in America by The National Law Journal and one of the five Most Influential Bankruptcy Judges in History by Law360.
Tina Brozman was only 54 in June 2007 when she died, two years after she was diagnosed – too late – with ovarian cancer. Tina will be remembered as an innovative jurist, a superb lawyer and law partner, and a mentor with a profound influence on the lives of many young professionals. But, ultimately, she was a mother, wife, daughter, and friend who was loved and is missed today.
Knowing it was too late to affect her own survival, Tina nevertheless undertook the critical and selfless work of saving the lives of other women by laying the groundwork for the ovarian cancer research and awareness Foundation that bears her name. It is this work that Tina's Wish has pursued since 2008 and will continue to pursue in her name, in her honor, and in her spirit.
#1
deadliest gynecologic
cancer
80%
of women are diagnosed
at an advanced stage
27%
of women have a 5-year
survival rate after an
advanced stage diagnosis