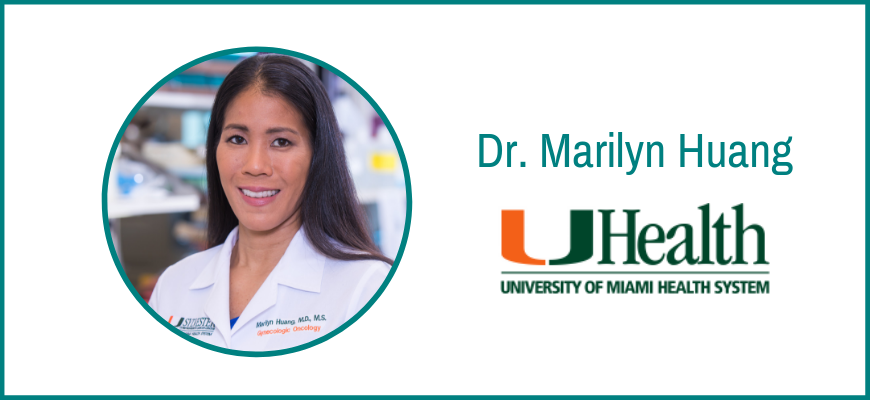 Marilyn Huang, MD, MS
Dr. Marilyn Huang is an Associate Professor at the University of Miami, Miller School of Medicine in the Department of Obstetrics, Gynecology, & Reproductive Health, Division of Gynecologic Oncology. She is the Director of Translational Gynecologic Oncology Research and Vice Chair of the Data and Safety Monitoring Committee (DSMC) at Sylvester Comprehensive Cancer Center.  Dr. Huang is focused on investigator-initiated trials particularly in early phase drug development and novel therapeutics. She serves as principal investigator on multiple national clinical trials and is an active committee member on the developmental therapeutics in NRG-Oncology. Other areas of interest include minimally invasive surgery (laparoscopy and robotics), developmental therapeutics, immune therapy, and hereditary cancers.
Dr. Huang graduated from Eastern Virginia Medical School and completed her residency at New York Presbyterian Hospital-Weill Cornell Medical Center. She then completed fellowship at the University of Texas MD Anderson Cancer Center. She is board certified in Obstetrics & Gynecology and in Gynecologic Oncology. Dr. Huang sees patients at Sylvester Comprehensive Cancer Center Miami location and Deerfield Beach.
CLICK HERE FOR MORE INFORMATION ABOUT THE BOCA RATON COCKTAILS FOR A CAUSE EVENT