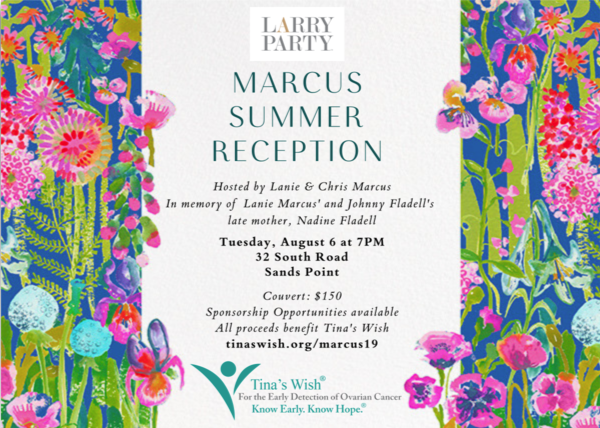 Lanie & Chris Marcus are hosting an evening Summer Reception at their home in Sands Point on Tuesday, August 6th in support of Tina's Wish and early detection ovarian cancer research. Please join us for hors d'oeuvres, cocktails and a powerful program featuring gynecologic oncologist, Kara Long Roche, MD from Memorial Sloan Kettering Cancer Center.
Did we mention it's #ALarryParty?!
The Marcus' annual event honors the memory of Lanie Marcus' and Johnny Fladell's late mother, Nadine Fladell, who passed away in 2013 from Stage III ovarian cancer at 63 years young. Nadine was a mother, grandmother, friend and confidante. She fought this terrible disease for eight years.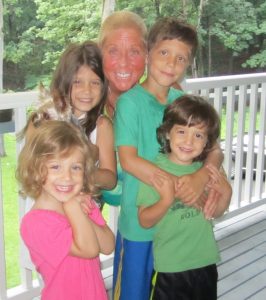 Nadine Fladell
1950-2013
8 year battle with ovarian cancer
PREMIER SPONSOR
Kirkland & Ellis
TEAL SPONSORS
Stephanie & Sam Bhagat
Howard & Christina Blaustein
The Brozman Family
The Caslow Family
Samantha & Jeff Gleit
Dara & David Hillman
Manda & Jason Kovar
Amy & Marc Puntus
Alison & Ben Schrag
Mark Somerstein
Kate & Shai Waisman
GOLD SPONSORS
Steven & Jodi Bettinger
Dardana Geller & Steven Baum
Dalith & Todd Edgar
Ainsley & Brendan Hayes
Jonathan & Pamela Henes
Stephen & Stephanie Hessler
Steven & Susan Herfield
Katie & Mike Jakola
Amy Kyle & Al Rose<
Joe Marcus & Barbara Hershman
Jeremy & Marisa Matican
Mark & Kelly McKane
Joff & Cath Mitchell
Mike & Wendy Movsovich
Dana & Marc Ravner
Jennifer & Evan Rothenberg
Anup & Karyn Sathy
Keith & Ami Simon
Emily & Adam Steinberg
Josh & Jen Sussberg
Robyn & Yaron Turgeman
Maritia & Tom Walper
Tracy & Brad Widolok
SILVER SPONSORS
The Abrahams Family
Beth & Jon Ain
Lindsey & David Allen
The Angel Family
The Appel Family
The Balsam Family
Anna & Dan Berman
Jillian & Danny Blumkin
The Boruchovs
Joe & Marianna Bruno
Lauren & Chris Casazza
The Cooper Family
Kellie & Michael Damast
Jesse DelConte
David & Louanne Eaton
David Feldman & Dana Hagendorf
Jared & Stephanie Feldman
Randi & Jeffrey Finger
The Frisch Family
Julia Frost-Davies & Jason Davies
The Furstenberg Family
The Glover Family
Kerry & Danny Golden
Jennifer & Ian Goodman
Debbie & Eric Hartstein
The Herman Family
Andrea & Jet Ivezi
The Levine Family
Liat & Ron Meisler
Abby & JB Meyer
The Rand Family
Steven ($2) & Elizabeth Reisman
The Rejwan Family
The Restivo Family
Frank & Olympia Rubino
Sheryl & Glenn Schorr
The Sealove Family
Steve Serajeddini & Emily Geier
Phil Sivin & Family
The Spivey Family
The Stier Family
Bella & Brian Wilkins