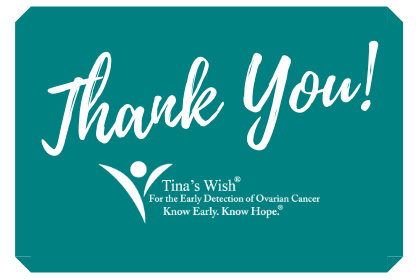 Many thanks to all of our generous event sponsors and supporters for making 2019 such an incredible year for Tina's Wish!  Thank you for your commitment, for believing in the work of our researchers, and for helping to give women and their families a fighting chance against ovarian cancer.
We can't wait to share what is happening in 2020 with you. Please check back for event details for the upcoming year.
If you would like to make an end of year contribution to Tina's Wish, please CLICK HERE.
To send a holiday card, CLICK HERE.
For recaps of our 2019 events, please visit the event recap pages below. If you are interested in learning more, getting involved with Tina's Wish, or hosting a Tina's Wish Lunch & Learn or Cocktails for a Cause in the coming year, please contact info@tinaswish.org or (212) 880-5757.
2019 TCS New York City Marathon
Inaugural NextGen CockTEAL Party
2019 Tina's Wish Annual Benefit Dinner
2019 Zoot Westchester Triathlon
Marcus Summer Reception & Fladell Golf Outing
Junior Advisory Board Summer Wish Party
2019 Leadership Council Spring Reception
4th Annual Junior Advisory Board Trivia Night
Cocktails for a Cause: Hosted by C200 and Joele Frank, Wilkinson Brimmer Katcher