Valerie Smaldone is an award-winning radio host, media personality, actress, producer and ovarian cancer survivor. Following her treatment in 2001, she turned her pain into purpose by becoming an advocate for awareness and speaking out about the disease to help other women. We are grateful to Valerie for sitting down with us for this in-depth interview.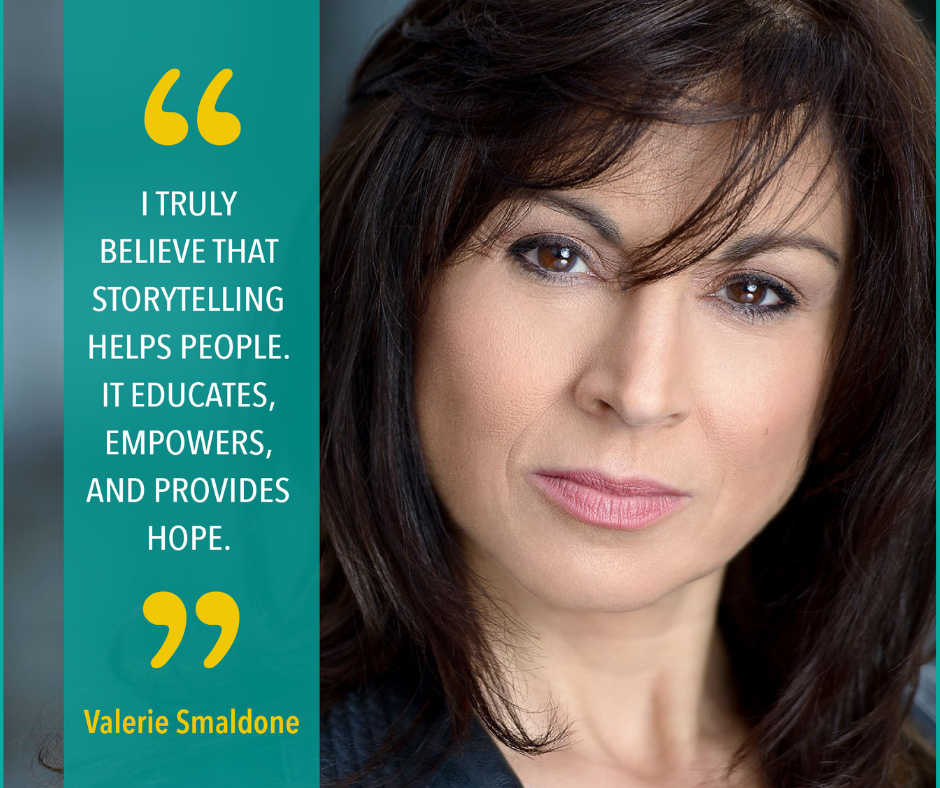 Was ovarian cancer something that was ever on your mind? Do you have a family history for this disease?
I had no family history of cancer of any kind.
Ovarian cancer was only on my radar because Gilda Radner and Madeline Kahn had been diagnosed with ovarian cancer. I was concerned about it because I knew there is no early detection test. My feelings about it at the time were, "There's nothing you can do, so I'm not going to worry about it."
Can you tell me about your diagnosis? Did you have any symptoms?
I had been having severe pain on my left side for a very long time. I went for an ultrasound and it was determined that I had a complex cyst on my right side (not left!) and my doctor wanted to remove it. We went forward with laparoscopic surgery and it was determined that it was benign. However, during that surgery my doctor saw something that was troubling him, so he took a biopsy of it and sent it to Massachusetts General Hospital. About a week later, my doctor insisted on speaking with me on the phone. It was a Friday, and I was on my way to do an audition for a voice-over for the TODAY Show when I called him back. He explained that he had seen 'something' during my surgery and needed me to come into his office on Monday to talk to him. I begged him to just tell me what was going on, as I could not go through the weekend worrying, so he finally said: "it looks like cancer." The craziest part is that it had nothing to do with the cyst. It was a stroke of luck that he happened to see the encapsulated tumor adjacent to my ovary while removing the cyst.
How did you feel when you heard your diagnosis? What were your next steps, and what did the next few months look like?
There's a lot of denial in the beginning. I remember saying to myself, "I'm sure it's a mistake."
I called my sister who is a Yale-educated oncologist and was, at the time, working at Bristol Myers Squibb on drug development. I was so lucky to have her because she was instrumental in getting me to the right people, the right institutions, and made sure I was seen by a top surgeon and oncologist.
Part of my treatment ended up being surgery and I bargained with my surgeon. I told him, "Look, I know most people would go forward with the whole hysterectomy. If you go in and you see that I absolutely need that, then do it. BUT if you can just remove one ovary to avoid thrusting me into early menopause please do that." He ended up removing the fallopian tube and ovary on the right side. I did not go into early menopause.
I pushed my oncologist on whether chemotherapy was necessary. I asked if there was any research that explains why this early stage would need chemo. He said there was no treatment research on early-stage ovarian cancer that he could point to, but he had colleagues in Italy who were conducting interesting treatment protocols. The University of Milano had qualified, quantified research on stage 1 cancers. Their research demonstrated that there is no difference between a double-agent chemotherapy or a single-agent in treating early-stage cancer. In other words, there was no reason to put a stage 1 patient through the more aggressive option. So in the end, I only had Carboplatin, not Taxol (the chemotherapy that causes you to lose your hair.) I only did four rounds, which is NOTHING compared to what most people with cancer must go through. Was it a picnic? No. My immune system was shot, I got terrible strep throat, I was dizzy a lot, my hair thinned, I had hearing loss, I lost a lot of weight, I was nauseous, tired, all of that. I was out of work for a month. But it could have been so much worse. I was so grateful that I had great doctors who listened to me and  my concerns. We were a team.
The craziest part of my journey was how intertwined my sister became. I am a storyteller so I always thought to myself, "Wouldn't that be a story – if I were to get cancer and Laurie was involved in a large way." Not only did my sister educate me and get me to the right doctors given her expertise, she was instrumental in developing and defending in front of the FDA the chemo drug I took, Carboplatin.
After your treatment you began to speak out about your journey, and you talked a lot about early detection. Why did you feel this advocacy was/is so important?
I felt so lucky, but more than anything I felt guilty because I would go to conferences and see what women with advanced stage ovarian cancer went through.
I lived in NYC, one of the best cities in the world for medical care. I had a doctor in the family who is an oncologist and carried me through the process. I had an amazing significant other, family and friends making up my support circle. I had an amazing employer who paid me in full during the month I was out. I was serendipitously diagnosed in stage 1 for a cancer that is notoriously diagnosed in late stages. I didn't realize how much of a blessing all of these things were until I met other people at these conferences who didn't have the same support, access to healthcare or financial resources. It was a huge reality check. I had the fighting chance that so many women facing ovarian cancer do not.
I felt a responsibility to these women and I truly believe that storytelling helps people. It educates, empowers, and provides hope. Storytelling resonates, statistics don't.
What is advice you would give to women about their overall health?
Be aware. Know your body.
One constant symptom I experienced was exhaustion. I remember traveling with a friend telling her how tired I had been and that something didn't feel right. I think that it's so important for us to listen to our bodies and pay attention to those nagging symptoms. A lot of them could end up being nothing but when it's persistent, you have to wake up and realize there's something there and you need to follow your instincts and get it checked.
What advice would you give to women just being diagnosed with OC?
When you hear a diagnosis of cancer, the first thing a lot of people think is: "I am going to die." We do not know what the outcome is going to be, but everyone is an individual and everyone has their own chemical makeup. I have met so many people who have done very well after a late-stage cancer diagnosis. I've also known people who have passed. The most important thing we can do is arm ourselves with information to make the best decisions possible for ourselves.
Go to experts. For those who don't live near world-class institutions, don't settle. You need to go where the cutting-edge information is and where the best research is being done.
Also, make sure you are in a partnership with your medical team. Do not be afraid to question them. You have to understand that there are consequences to every health decision you make. Only you know the lifestyle you want to have and what is best for you. Make sure you understand all your options. It's a team effort. Be in control. Don't feel like a person on a medical protocol treadmill.
Lastly, do not become obsessed with your disease or illness. You are NOT your disease. It is just a piece of you. Make sure you use your good china and wear your expensive jewelry. Live your best life.
What are you up to these days?
I describe myself as a media personality.
I host my own radio show, Bagels & Broadway, which features conversations with Broadway celebrities, creative teams and producers and restaurateurs and food entrepreneurs. It airs every Sunday on AM970 and is available on podcast. I have had the opportunity to perform in episodic television shows including the popular show, Blue Bloods.
Recently, I joined a company as a producer. We produce film, television, and audio drama and have a new show coming out that I am very proud of.
I am a voice-over artist, professional emcee, celebrity interviewer and talent coach as well. I work with a European boutique hospitality company, where I host and produce events (virtual at this point) for them as well as consult, and I am an adjunct instructor at School of Visual Arts. And I am a health and patient advocate and speaker.