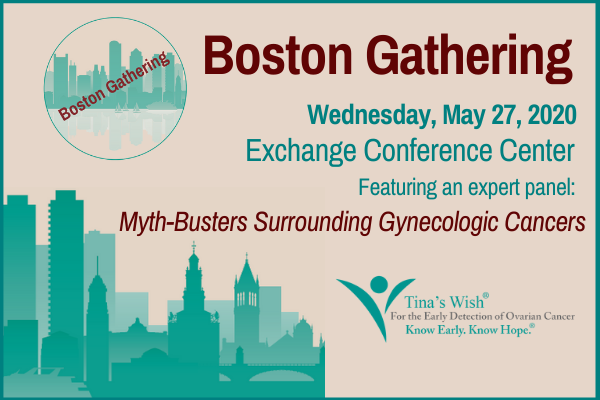 Boston Gathering
Wednesday, May 27, 2020, 6PM
Exchange Conference Center
212 Northern Avenue
Please join us on Wednesday, May 27 at Exchange Conference Center for the fourth annual Boston Gathering! Guests will enjoy cocktails and 'dinner by the bite' followed by an expert panel discussion, Myth-Busters Surrounding Gynecologic Cancers.
Event proceeds will go towards our Rising Star Grant, to benefit a non-tenured, innovative researcher dedicated to early detection ovarian cancer research. CLICK HERE to learn about our funded research.
CLICK HERE for a recap of the 2019 Boston Gathering.
CLICK HERE TO JUMP TO THE REGISTRATION FORM.
---
BEACON SPONSOR
---
BOSTON GATHERING COMMITTEE
The Honorable Frank J. Bailey, Judge of the U.S. Bankruptcy Court, District of Massachusetts 
Mr. Jack Bradley, J Bradley Consulting
Kevin Courtney, Esq., State Street Corporation
Patrick Dinardo, Esq., Sullivan & Worcester
Julia Frost-Davies, Esq., Morgan, Lewis & Bockius, Tina's Wish Board Member
Andrew Gallo, Esq.,  Morgan, Lewis & Bockius
Mr. Tyler Harrington, Crystal Financial
Ms. Joyce Kulhawik, Emmy Award-winning A&E Critic and 3x Cancer Survivor
Amy Kyle, Esq., Morgan, Lewis & Bockius, Tina's Wish Board Chair
Peter McGlynn, Esq., Bernkopf Goodman
Greg Milmoe, Esq., Greenberg Traurig
Laura Milmoe, Esq.
Patrick O'Toole, Esq., Weil, Gotshal & Manges
Ms. Caitlin Roos, Bank of America Private Bank
Ed Smith, Esq., Morgan, Lewis & Bockius
Ms. Kitty Smith
Ms. Tina Vitale, UMB Bank
Sandra J. Vrejan, Esq., Morgan, Lewis & Bockius
Jim Wallack, Esq., Goulston & Storrs
Leslie Zmugg, Esq., Gordon Brothers