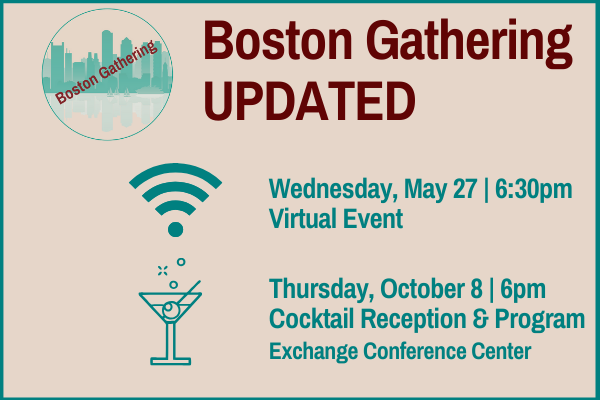 As a precaution and with the utmost concern about the health and safety of our community, we have decided to transform our in-person Boston Gathering scheduled for Wednesday, May 27th to a virtual experience and the in-person event has been rescheduled to Thursday, October 8th at the Exchange Conference Center.
UPDATED: Boston Gathering Events
Wednesday, May 27, 2020, 6:30PM | VIRTUAL EVENT
Join remotely, more details coming soon
Thursday, October 8, 2020, 6pm | IN-PERSON EVENT
Exchange Conference Center
212 Northern Avenue
With our hearts and minds focused on COVID-19, we are reminded of the importance of good health and the need for effective screening tools. Amidst this crisis, our mission and our quest for an early detection test for ovarian cancer remains as urgent as ever. We are hopeful that three (3) of our funded projects will enter clinical trials in the near future.
Despite the uncertainty in the air, we are thrilled to be able to connect with our Boston community at not one, but TWO exciting events this year. Thank you for your continued support & we hope you will join us virtually on May 27th and in-person on October 8th!
There is no charge for the virtual event.
Registration and Sponsorship costs relate specifically to the in-person event.
If  you commit to a Sponsorship now (before the virtual event) you will have an opportunity to upgrade your sponsorship level at no cost before the in-person event.
Event proceeds will go towards our Rising Star Grant, to benefit a non-tenured, innovative researcher dedicated to early detection ovarian cancer research. CLICK HERE to learn about our funded research.
CLICK HERE for a recap of the 2019 Boston Gathering.
CLICK HERE TO JUMP TO THE REGISTRATION FORM.
---
TEAL SPONSOR
---
BEACON SPONSOR
---
COMMONWEALTH SPONSORS
---
BOSTON GATHERING CO-CHAIRS
Kevin Courtney, Esq., State Street Corporation
Jim Wallack, Esq., Goulston & Storrs & Ms. Rebecca Matthews
BOSTON GATHERING COMMITTEE
The Honorable Frank J. Bailey, Judge of the U.S. Bankruptcy Court, District of Massachusetts 
Mr. Jack Bradley, Capstone Headwaters
Patrick Dinardo, Esq., Sullivan & Worcester
Julia Frost-Davies, Esq., Morgan, Lewis & Bockius, Tina's Wish Board Member
Andrew Gallo, Esq.,  Morgan, Lewis & Bockius
Mr. Tyler Harrington, Crystal Financial
Ms. Joyce Kulhawik, Emmy Award-winning A&E Critic and 3x Cancer Survivor
Amy Kyle, Esq., Morgan, Lewis & Bockius, Tina's Wish Board Chair
Peter McGlynn, Esq., Bernkopf Goodman
Greg Milmoe, Esq., Greenberg Traurig
Laura Milmoe, Esq.
Patrick O'Toole, Esq., Weil, Gotshal & Manges
Ms. Caitlin Roos, Bank of America Private Bank
Ed Smith, Esq., Morgan, Lewis & Bockius
Ms. Kitty Smith
Ms. Tina Vitale, UMB Bank
Sandra J. Vrejan, Esq., Morgan, Lewis & Bockius
Leslie Zmugg, Esq., Gordon Brothers