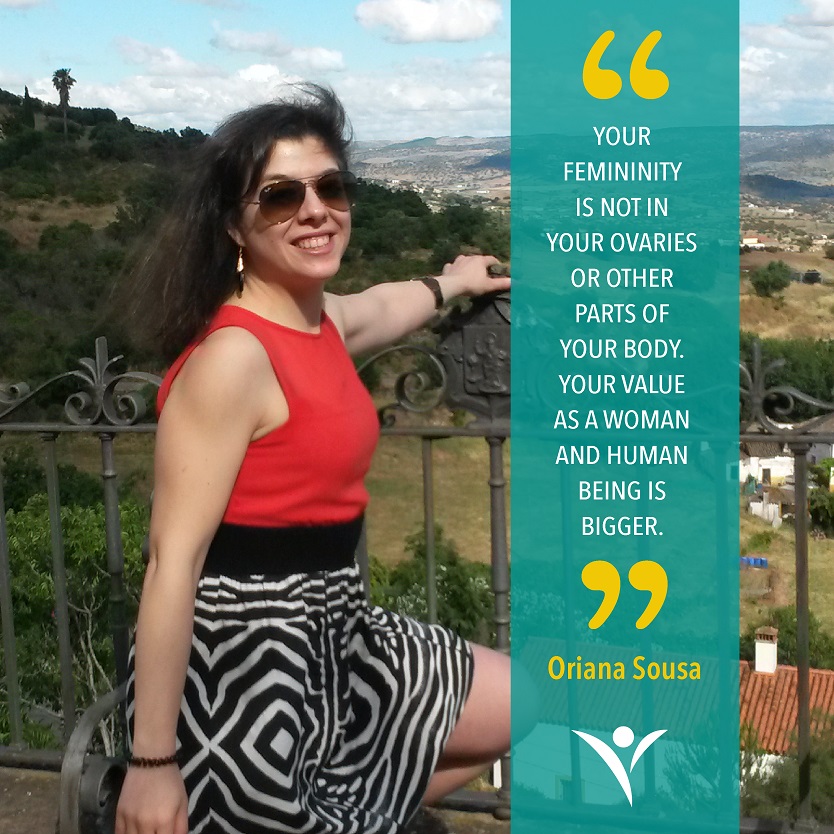 Oriana Sousa was diagnosed with ovarian small cell carcinoma – a rare, aggressive form of ovarian cancer – at only 22 years old in December 2011 in Portugal. After years of unsuccessful treatments, she tried immunotherapy and went into remission. Oriana was one of the first small cell ovarian cancer patients in the world to ever receive immunotherapy. A professional psychologist, Oriana now has a website where cancer patients, survivors and caregivers can book appointments with her for one-on-one sessions. Learn more about this remarkable young woman and her triumph over this disease in our interview with her.

Q&A with Oriana

Tell me about your diagnosis.
I was 22 years old and it was the summer of 2011 when I started feeling symptoms like constipation, which did not concern me too much. Through the fall I began experiencing more alarming symptoms – some hair loss, excessive thirst and I constantly had to urinate. I received many tests and went to multiple doctors, including a gynecologist who ultimately told me I was "fine." I was continuously misdiagnosed with everything from a urinary tract infection to stress.
The symptoms continued to get worse and I began to experience additional symptoms including extreme fatigue and nausea. I started to feel a hard lump on my abdomen which I would later learn was my tumor.
My family and I were concerned that it was an intestinal blockage at that point, so my aunt who is a nurse accompanied me to the hospital in December and this time she spoke directly to a doctor whom she trusted. He felt my abdomen and said either I was pregnant or I had a tumor. Through a pregnancy test they confirmed I was not pregnant and instead discovered a large tumor on my ovary. They operated on me and at the end of December 2011, I was officially diagnosed with a rare, aggressive form of ovarian cancer called ovarian small cell carcinoma. This type of ovarian cancer primarily affects younger women and has a very poor prognosis. I was shocked as I have no family history of this disease.
What was your reaction to receiving the diagnosis?

Immediately after the surgery, I became depressed; not about the diagnosis (that came later) – I mourned my ovaries. It was not only the thought of infertility that saddened me. I was a 22-year-old woman who felt robbed of her womanhood. I was about to enter early menopause.
I was having trouble processing the news and it truly took some time for the realization of the diagnosis to kick in. I remember being worried about my parents. I could see my mom was very scared. I was so anxious when I finally got home from the hospital and my new reality finally hit me. I was lost in my own thoughts; I was sad, overwhelmed with everything that was happening at such a fast pace, and concerned with the next possible step of chemotherapy. However, I was also focused on recovering from surgery and wanted to stay calm for myself and to comfort those around me. I always tell everyone – it is not only the patient who suffers, it is the whole family.
What were your next steps?
The next four years were honestly a nightmare.
I went from being an active, happy, vibrant young woman to obsessing about what to do next to save my life. I received second then third opinions and went to different hospitals and doctors in Portugal and Spain. I underwent chemotherapy, radiation therapy and more surgery. Ultimately even if the tumors shrank, it was always temporary, and the cancer came back more aggressively. My life seemed to be vanishing right before my eyes.
Immunotherapy was something that had always been in the back of my mind. In 2010, before I was sick, I heard a story about a Portuguese family and their little girl who was diagnosed with renal cancer at only three years old. Instead of doing chemotherapy, her parents decided to start her on immunotherapy which ended up being very successful. Immunotherapy is a type of cancer treatment that helps your own immune system fight cancer as opposed to letting a chemotherapy drug try to fight the cancer.
I had previously brought up immunotherapy to doctors and they told me that my cancer was too aggressive and it was not worth considering since there was no evidence that it was effective for small cell ovarian cancer. The trials being done were primarily for melanoma and lung cancer but in 2015 I decided it was time to try it.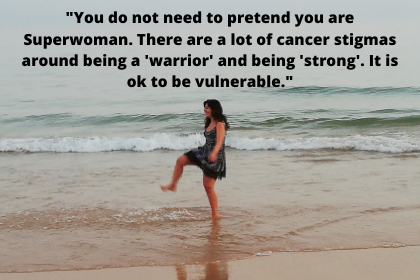 The FDA in the U.S. had just approved an immunotherapy drug called Nivolumab a few months prior but it would be months before my doctor in Portugal would have access to it, so I flew to a clinic in Germany and received my first infusion. Soon after, my tumors began to drastically shrink and continued to shrink. Almost immediately after my first few immunotherapy treatments, I began to feel like myself again. I remember going in for an infusion and attending a CrossFit class right afterwards.
In May 2016, I was told there was No Evidence of Disease (NED).
What was it like when you realized there was finally promise in a treatment?
It was like a dream come true. I remember buying concert tickets and that felt so good. It was the first time in a long time that I could plan to do something months in the future.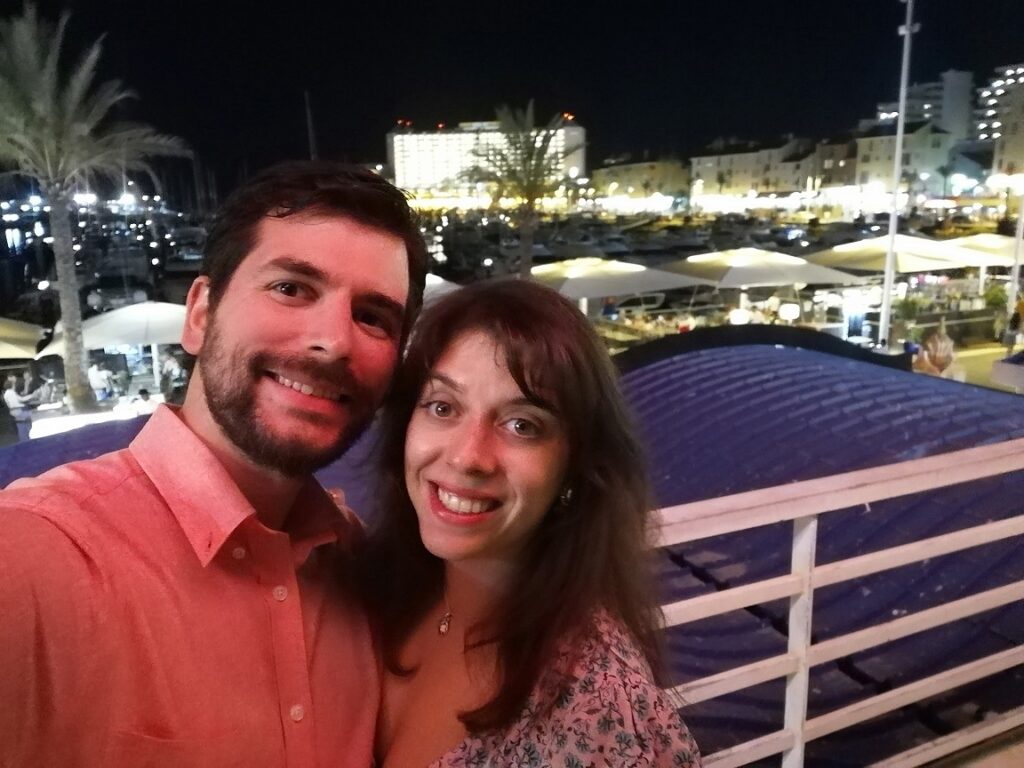 I was taking my life back. I felt empowered, unbeatable and I finally had hope.
During those horrible years, especially in 2013, I truly thought I was going to die. Although it was a dark time, there were some silver linings to being in "survival mode". I embarked on a research journey to better understand terminal cancers and alternative therapies that people were turning to that went against normal protocol. It inspired me to advocate for myself.
When did you start your psychology program for other women? What inspired you?
During my cancer journey I became very interested in psycho-oncology. I had finished my master's degree in psychology in 2016 and once my treatments were finished in 2018, I found a job as a corporate psychologist.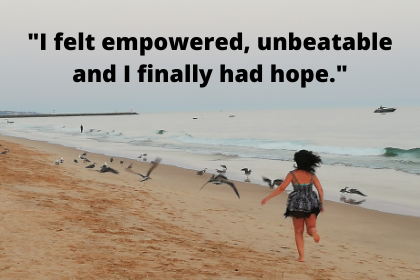 After speaking to my fiancé about my true passion – helping others battling cancer – he helped me gain the confidence and courage to create my own private practice (https://dealingwithcancer-support.com/).
My vision is to give individuals all over the world who are battling cancer, dealing with the aftermath of cancer or acting as a caregiver an online space where they can access one-on-one support from someone who understands what they are going through and is professionally trained. I believe there is a huge gap within medical institutions when it comes to this.
What advice would you give to other women who are going through a similar cancer journey?
Your femininity is not in your ovaries or in other parts of your body. Your value as a woman and human being is bigger.
You do not need to pretend you are Superwoman. There are a lot of cancer stigmas around being a "warrior" and being "strong." It is ok to be vulnerable.
Do not forget to love yourself.
Make sure you are confident in your medical team and that you have a connection with them. It is so important for the patient to feel heard. Your doctor should care about your wishes and listen to all your concerns.