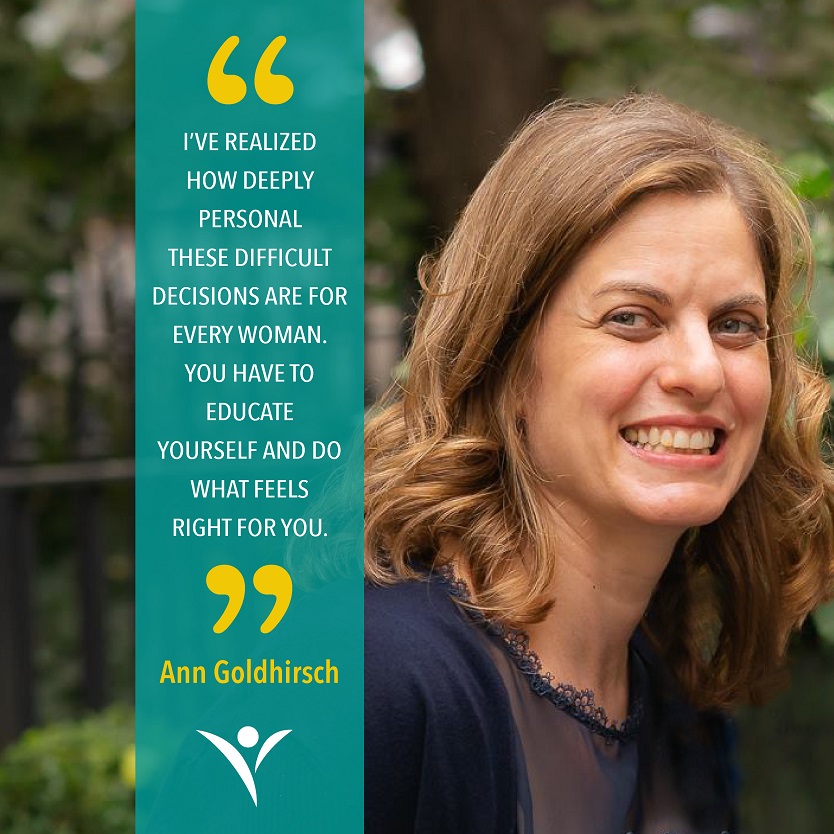 In 2019, Ann Goldhirsch learned that she has the BRCA genetic mutation, which puts her at a higher risk for developing breast and ovarian cancer. In this interview with Tina's Wish, Ann shares her story about the difficult decision-making process she went through in choosing which risk-reducing surgery was right for her.
Do you have a family history of ovarian or breast cancer? Had you always thought about genetic testing?
My maternal grandmother had breast cancer, but she didn't pass away from the disease. In fact, she lived until 88 years old. I was always told that my grandmother "didn't count" as a close relative because she wasn't my mother. So, genetic testing wasn't recommended to me.
Last summer I was driving to go pick up my son and a piece came on NPR radio reporting that ALL Ashkenazi Jewish women should be tested for the BRCA genetic mutation – not just the ones with family history. Coincidentally, I had my annual exam with my gynecologist the next day. I mentioned the information I heard over the radio to her and she said that she could test me right in the office. A few weeks later I received a call from my doctor telling me that I tested positive for the BRCA mutation. I think she was as surprised as I was.
What was your reaction to learning this information and what immediate next steps did you take?
My first feeling was shock, then I began to feel very overwhelmed. I had no idea what it meant exactly. My doctor booked an appointment for me with a breast surgeon who presented me with various options. He scheduled a half a dozen appointments with different specialists and to have additional testing performed.
I was deciding which of my organs to remove and there were a lot of choices being thrown my way. I never really was considering having a mastectomy. In the end, I decided not to have a full hysterectomy. I went with the salpingo-oophorectomy (removal of the ovaries and fallopian tubes) as this eliminates the risk of developing ovarian cancer. I quickly learned that there is no early detection test for ovarian cancer and this scared me the most. I already have my children so my decision to at least remove my ovaries and fallopian tubes was a no-brainer.
I decided that the recovery and the possible complications from having a full hysterectomy were so much greater than the salpingo-oophorectomy. I had the surgery and now my doctors monitor me closely. If I ever need additional surgeries, I will go ahead with them. I know now that I am at higher risk for breast cancer and other cancers associated with the BRCA mutation but I can keep track of and monitor these through early detection methods. It was the thought of ovarian cancer that really scared me more than the others.
The recovery from surgery was fairly easy. Within three weeks I went on vacation with my family and by five weeks post-surgery I felt almost completely back to normal.
"I was deciding which of my organs to remove and there were a lot of choices being thrown my way."
Who or what helped you navigate the difficult decision-making process?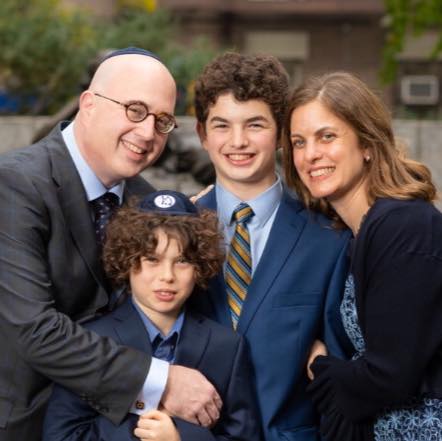 My husband happens to be a doctor and he came with me to most of my appointments, so I can't even imagine what it would be like for somebody who did not have that level of support and expertise.
Seeing a genetic counselor helped a lot. She talked me through the statistics and various other options. When I had questions, she was there with useful information and guidance. I also spoke to other people had who tested positive and had undergone surgery, which was helpful, but in the end it is a very personal decision and I had to do what was right for me.
What advice would you give to women who are now discovering they have a BRCA genetic mutation?
I've told a lot of my friends who are Ashkenazi Jewish to get tested, as one in forty women of Ashkenazi Jewish decent have a BRCA mutation.
I think anyone who tests positive for the BRCA mutation and is finished having children should at a minimum consider having the salpingo-oophorectomy. I think the additional surgeries come down to a decision that women have to make for themselves.
My gynecologist called me to check in at some point before I made my final decision and she said if it were she, she would go for the full hysterectomy and double mastectomy to eliminate any worry whatsoever of any cancer scares in the future.
"One in forty women of Ashkenazi Jewish decent have a BRCA mutation."
I wanted someone to just tell me "do this" or "do that" – but I've realized how deeply personal these difficult decisions are for every woman. Educate yourself and do what feels right for you. I remember Googling everything when I first learned I had the mutation and there did not seem to be a lot of resources. I hope that changes. I am certainly happy to be a resource for any woman going through this!