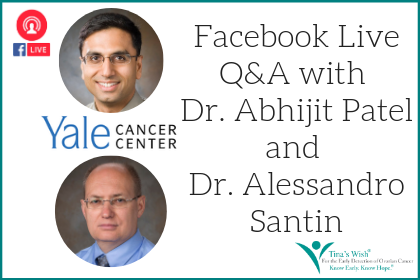 On World Ovarian Cancer Day, Wednesday, May 8, we hosted a Facebook Live Q&A with Tina's Wish Researchers, Dr. Abhijit Patel and Dr. Alessandro Santin of Yale Cancer Center, moderated by Julia Frost-Davies, Tina's Wish board member and partner at Morgan, Lewis & Bockius LLP.
Dr. Patel and Dr. Santin spoke about their project titled "Integrated Analysis of Proteomic and Genomic Signatures in Blood for Early Detection of Ovarian Cancer" . For the full video, see below.
CLICK HERE to like our Facebook page and stay up to date on other Facebook Live events.
 To learn more about Dr. Patel, Dr. Santin, and their research, CLICK HERE.
To view other past Facebook Live events, CLICK HERE.
For more information about Tina's Wish research, CLICK HERE.