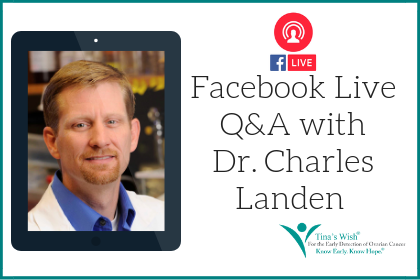 On November 15, we hosted a Facebook Live Q&A with Tina's Wish Researcher and Scientific Advisory Board member, Dr. Charles Landen of the UVA Health System.
Dr. Landen spoke about his research in early-stage ovarian cancer detection through vaginal sampling (aka the "tampon test") and answered viewers questions live. For the full video, see below.
CLICK HERE to like our Facebook page and stay up to date on other Facebook Live events.
 To learn more about Dr. Landen and his research, CLICK HERE.
To view the Facebook Live video from our medical symposium featuring Tina's Wish researchers, CLICK HERE.
To learn more about the MAGENTA Study mentioned in the video, CLICK HERE.
For more information about Tina's Wish research, CLICK HERE.